Testimonials
Randl Eckert
Redondo Beach
Posted in Angies List January 2013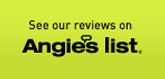 We purchased an older home in Rancho Palos Verdes and decided to remodel the place, including a complete reworking of the entire first floor, including the kitchen. After interviewing several general contractors, we selected Art and his team. We were impressed with his eye for high-quality design, his wealth of experience, attention to detail, and the expectations he set for the quality of his work and his subcontractors.

The process began with Art carefully designing new floor plans (he presented us with various options and his ultimate recommendation), and he thought of a lot of great ideas on how to rework the first floor which we would never have thought of on our own. He was also very receptive and welcoming of the ideas we did have, and made sure to incorporate them in a way that complemented the overall design.

We were working on a compressed timeline, and Art was very responsive - we had the maximum number of trades working on-site as possible on a daily basis. And Art kept us up to date on the progress on a daily basis. As with any remodel, unexpected problems arose (crazy hidden beams found during demo and the like) that Art was able to handle without deviating from the timeline. He presented us several solutions during every phase, identifying which solution made most sense and was cost-effective, so it never seemed like we were stuck. Art was also very honest about costs and expectations - we never felt like any up-selling was occurring.

One thing that we particularly liked was that Art had lots of ideas for all design details (types of outlet covers, cabinet knobs, placement of new lighting, paint colors, etc.) that really made the whole place come together. Art's recommendations, drawn from his decades of experience, was invaluable. A huge plus about Art is that he is equally a home designer as he is a builder/general contractor, and has impeccable taste for high-quality, tasteful home designs, with a great attention to detail.

Art also introduced us to his contacts for various materials, and even accompanied us to each major vendor (e.g., windows, kitchen cabinets, counters, appliances) to guide us through the process. And, as we got closer to the finishing stage, Art carefully coordinated the painters, flooring, and carpenters so that we could move in 1 week early, which was very much appreciated.

Overall, we are incredibly happy with how our new home turned out - it looks nothing like the old house we purchased. We would recommend Art Hoffstrom Builders to anyone looking to remodel. After hearing lots of nightmare contractor stories from friends and relatives, it's nice to have avoided all that nonsense by going with Art. His work is high quality and he is very responsive - bottom line.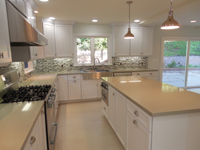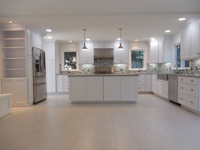 ------------------------------------------------------------------------------------------------
Kerry March 2012
Kerry says: My kitchen and bathroom remodel was wonderful. Top quality work in all aspects, and what really impressed me was the way Art coordinated the entire project. There was no down time at all. When the tile crew was walking out the door, the plumbers were walking in. From talking to the tile crew, the granite crew and the plumbers, these crews have worked together for many years and know the time line of each others job with Art coordinating the complete operation and keeping me informed every step of the way I got a top quality job in minimal time. Thanks Art.
----------------------------------------------------------------------------------------------
Jack & Elaine B.
Rancho Palos Verdes
Jack says: Our overall remodeling experience was very satisfactory. The job went smoothly and the final product certainly met our expectations.
There were issues that were unknown until the walls came down, and Art was able to create solutions to these problems in a creative and timely manner.
The pricing was very fair, and the end product shows off the high quality of work and attention to detail that Art incorporates into his work. Art visited the site on an almost daily basis, which is not always the case with general contractors, and this helped to move the project along and showed his interest in producing a quality product.

Also, we were so pleased with the kitchen remodeling project that this lead to our deck project, which also turned out well. We would definitely recommend him.
------------------------------------------------------------------------------------------------
Connie & Jim J.
Rancho Palos Verdes
Connie says: Our remodeling experience was lovely. Wonderful. Art was fair with pricing, and he really cinched the deal because at the time, we were still living on the east coast and had seen another contractor who was less expensive, but Art asked to see us one more time and made us so comfortable that we changed our mind. I have friends on several different remodeling jobs and they tell me they have horrible contractors, which reinforced my confidence in having picked Art – I'm very happy that we went with our decision.

The other reasons that we chose Art are because he presents well, is clearly organized, and his level of confidence made us feel confident.
Art was very personable – as was his entire staff. We would recommend him.
----------------------------------------------------------------------------------------------
Cathy & Richard V.
Manhattan Beach
Our remodeling experience was wonderful. Art was very attentive to what we needed and I liked his creativity – when there's a problem, he can come up with any number of solutions. In our case, he helped with a floor leveling issue. Pricing was fair and the quality of work was great.

We interviewed a lot of architects and Art was the only one who came in, spent time, brought samples, he was the only one who gave us a lot of ideas and a lot of his time. He brought in pictures and plans from another job. He explained everything and really took the time.

Not only would we recommend him, we already have.
------------------------------------------------------------------------------------------------
Shirley C.
Rancho Palos Verdes
Art was very honest, generous, and extremely helpful. He always makes time for the clients – you feel that you can contact him any time.

Art stands behind his work and name/reputation, and all of his work is guaranteed.

I also chose him because he's local – he's up on the hill and is always quickly available.

Art helped me out of a very tough situation and helped me save a lot of money and got me out of the mess. He told me that I was being charged too much by a tradesman and his experience and honesty really helped me. He is enthusiastic and very eager to help his clients, especially if they're in trouble.

I have already recommended him and will continue to do so.